Our Büssing 8000 S13 as new edition, scale 1:16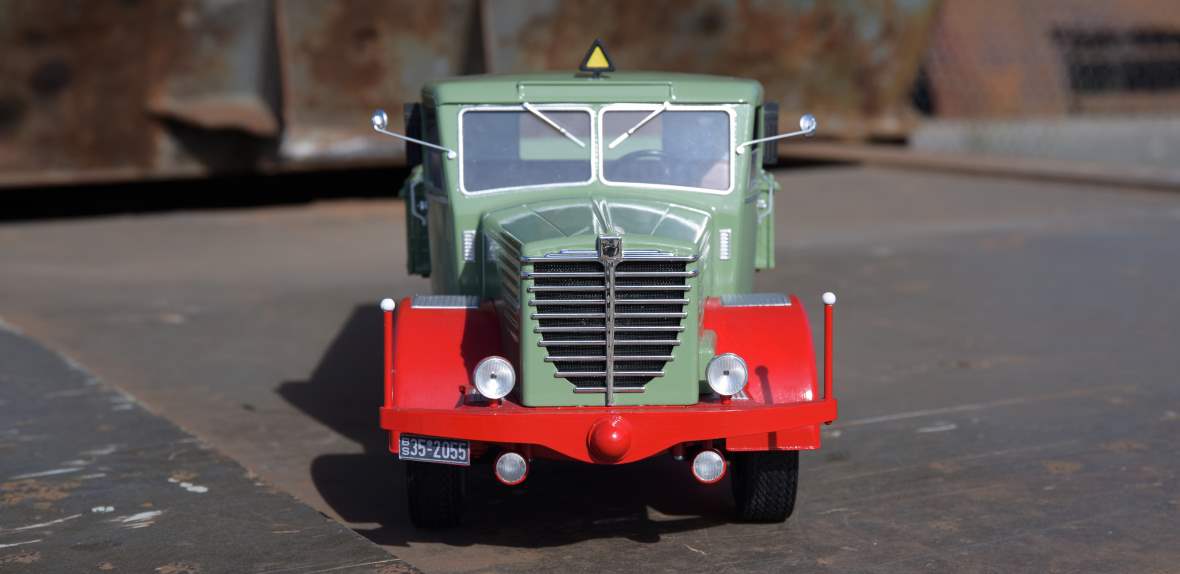 Besides several different trucks, the Büssing 8000 S 13 was one oft he most famous and also most impressive trucks in Germany in the 50s. A typical feature of this truck era were long hoods, far too little hp and the hard sound of the four-stroke diesel engines. The 6-cylinder engine only produced 180 hp where the "S" stands for standing engine and the"13" for the volume of the engine of 13 Liters.
This model was already produced by us over 20 years ago. At the time it was sold by Firma Conrad Electronic. After a few years we could not produce the model any longer. So the Büssing disappeared from the marked. But the demand was still there. This is why we decided to revive the Büssing now. For chassis and add-on parts new mold injection forms were produced. The plank bed was furnished with real wood. The interior was reworked and completed with pedals, gear stick and handbrake lever.
Optional you can retrofit the lights with a lighting kit. (Art.Nr. 251002) The drive set (Art.Nr. 251001) includes a underfloor motor of Firma Servonaut, which transmits the power via a cardan shaft made of stainless steel with length compensation to the rear axle. This gives the model enough power and adequate sensitivity for maneuvering with the suitable 2-axle trailer (Art.Nr. 251003). Up to the 50s it was allowed to attach 2 trailer. This was a real challenge for the driver
Technical details:
Length ca. 570mm, Width ca. 160mm, Height ca. 165mm, Weight ca. 1.600g
Content of delivery:
Frame of aluminum with all drilled -and threaded holes
Ball bearing rear axle made of reinforced plastic with metal differential
front axle made of hardened plastic
ball bearing Trilex – rims in front , rear Trilex – double rims
Fulda Coloss tires plus spare tire
Flat springs kit front and rear made of spring steel
Driver's cabin made of several plastic parts (ABS)
Flatbed made of Polystyrol with side walls of Injection molded part and real wood floor.
Interior design, Tank, air barrel, fitting parts, Exhaust, etc..
Decorsheet and detailed building instructions
Art.Nr. 251000
Officially licensed by MAN Truck & Bus SE
Optional accesories:
Art.Nr. 251001 drive set

Content of delivery:
7,2 Volt underfloor motor with planetary gear from Servonaut
Engine mount made of aluminum
Cardan shaft made of stainless steel with length compensation
Art.Nr. 251002 Lighting set
Content of delivery:
Light unit to steer the single light functions
Wiring harness with corresponding bulbs
Art.Nr. 251003 2-axle trailer
Content of delivery:
Milling plates of Polystyrol for Chassis, bogie and flatbed
Side walls
Steel axles with holding fixture for flat springs
Trilex – double rims with Fulda Coloss tires
Bracket with spare tire
Real wood floor
tail lights with license plate holder
Drawbar with trailer hitch of strengthened plastic